Investment Committee
Alice Lin Fabiano
Global Director, Social Innovation and Investment, Global Community Impact
Alice leads Johnson & Johnson's social innovation and investment strategy to foster a healthy, vibrant innovation ecosystem. Her team partners with technologists, entrepreneurs, social venture investors, thought leaders and communities in the discovery and nurturing of ideas addressing issues that are disproportionately impacting people in low-resource settings. Previously, she led the corporation's mHealth commitment to the U.N. Millennium Development Goals to deliver vital messages to pregnant and new moms using mobile technology. She also had responsibility for the global HIV philanthropic portfolio and continues to champion the prevention of mother to child transmission. Alice is a founding member of The Mobile Alliance for Maternal Action (MAMA) and the U.N. Women Global Innovation Change Coalition.
Jane Griffiths
Former Company Group Chairman, Janssen EMEA
Former Chair of Johnson & Johnson Foundation Scotland
Jane Griffiths has been working in healthcare for more than 30 years. With the continuous advances in innovation, technology and research, Jane is excited about the future of patient care and believes optimal care will be achieved by taking a holistic view of the patient and delivering not only life-changing medicines, but a package of support for patients, families and carers. Prior to her retirement from Johnson & Johnson, Jane was Company Group Chairman of Janssen in EMEA, and held various roles within Johnson & Johnson, starting as a sales representative. She was formerly Chair of the Johnson & Johnson Foundation Scotland and Sponsor of the Janssen Global Pharmaceuticals Sustainability Council. She was the first female Company Group Chairman of Janssen in EMEA, and while at Johnson & Johnson was Sponsor of the Johnson & Johnson Women's Leadership Initiative. She is also Board Mentor at Criticaleye, a member of the EFPIA Board, past Chairwoman of the EFPIA Executive Committee, and past Chairwoman of the PhRMA Europe Committee.
Bonny Landers
Bay Street Consultants
Bonny Landers is a senior finance professional with 25+ years in international banking, primarily with JP Morgan and Chase Manhattan Bank in New York, Paris, London and Hong Kong, working in more than 90 countries during her long career. Bonny has established her own international consulting company, Bay Street Consultants, to advise families and private foundations on how to transition their investment portfolios toward more responsible, sustainable and impact investments and currently works with private investors and corporate foundations across the globe on impact investing.
Lauren Moore
Vice President, Global Community Impact, Johnson & Johnson
Lauren Moore joined Johnson & Johnson in October 2015 and is the Vice President of Global Community Impact. Lauren is responsible for driving strategy development and implementation of the company's Social Impact work. With Johnson & Johnson's strong focus on relentlessly driving better health for all, the Global Community Impact team focuses on supporting and championing front line health care workers. Lauren also oversees the Johnson & Johnson Foundation and the Johnson & Johnson Patient Assistance Foundation.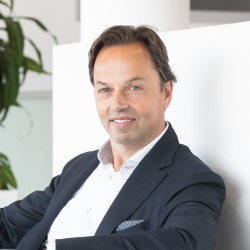 Kris Sterkens
Company Group Chairman, Janssen EMEA
Managing Director, Janssen Pharmaceutica
Kris was appointed to his current role as Company Group Chairman of Janssen EMEA in April 2017. An advocate for embracing change, Kris has led the regions response to the increasing digitalization of healthcare, while driving further collaboration both within and outside the Industry to find better solutions for patients, customers and communities. In April 2020, alongside his role as CGC EMEA, Kris was named Managing Director of Janssen Pharmaceutica. Kris is dedicated to honoring the wider societal responsibility of Johnson & Johnson, and to support this effort he took on the role of Chairman of Johnson & Johnson Foundation Scotland in December 2019. He is also a keen advocate of Inclusion and Diversity and the Executive Sponsor for the J&J Open & Out initiative in the region.
Joseph J. (Joe) Wolk
Executive Vice President, Chief Financial Officer,  Johnson & Johnson
As Executive Vice President and Chief Financial Officer for Johnson & Johnson, Joe leads the worldwide Finance and Global Services organizations, which comprise approximately 9,000 colleagues around the globe. He assumed the role of Chief Financial Officer in July 2018 and has been with Johnson & Johnson for 21 years. Joe is passionate about talent development, driving innovation and community service. He is the executive sponsor of Johnson & Johnson's Impact Venture Fund, an "impact investment" fund that provides funding to entrepreneurs and their start-up companies or social enterprises to address healthcare challenges impacting people around the world.